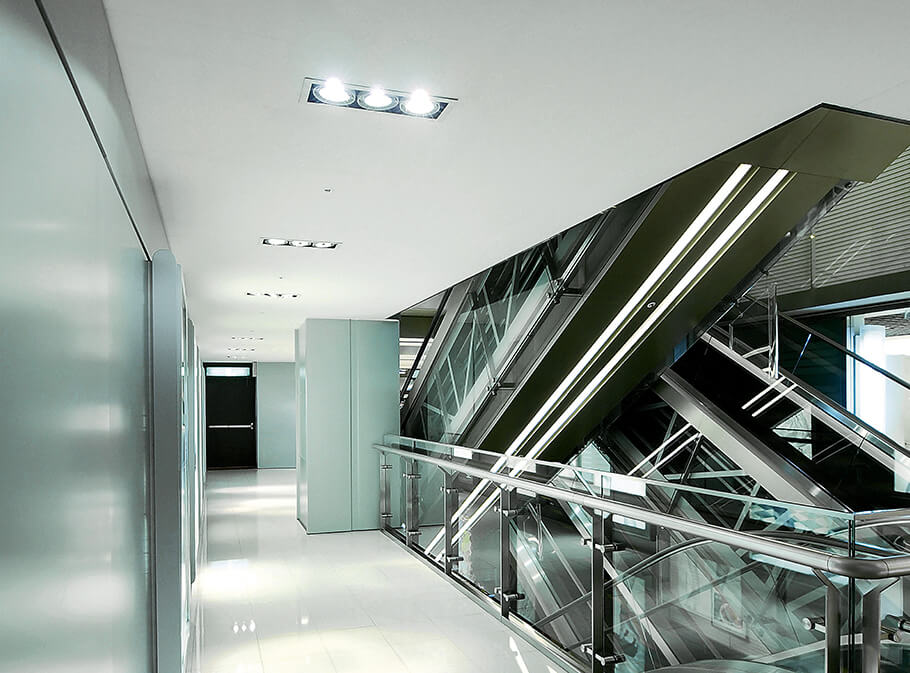 back to advanced search
OTELLO LED
Otello returns with a new design and a wide choice of versions to create custom recessed led luminaires. Simple and fast installation, maximum efficiency, symmetrical and homogeneous light distribution, multiple choices of use thanks to the reflectors and the versions with 1, 2 or 3 light points available. Otello led the excellent accent light in every environment.
Specifications
Integrated driver
Colour temperature: 3000K/4000K
CRI>90
McAdams 3
Life Time: L80/B10 >50.000h
5 years complete warranty
Eye safety: RG0/RG1 in accordance with EN62471:2009
Optics
Internal aluminium reflectors from 12° – 20° – 40° – 70° beam angles
Honeycomb optic
Sculpture optic
Mat glass
Body
Manufactured from folded metal sheet. Spotlights in die-cast aluminum.
Legal references
In compliance with the safety standards EN 60 598-1
and UNI EN 12464-1 (lighting for working places).
On request
Colour temperature 2700K/5000K
Frameless version
Wiring DALI dimmable – Code: RDD (verify the version available)
Wiring with emergency kit – Code: EM for 1 hour / EM3H for 3 hours (verify the version available)
Driver Bluetooth – Code: BT (verify the version available)
code

flux
size
wiring
datasheet
voce di capitolato
45VT118L49012
1x18W 12° 4000K
2051lm
175x175mm
45VT118L49020
1x18W 20° 4000K
2051lm
175x175mm
45VT118L49040
1x18W 40° 4000K
2051lm
175x175mm
45VT118L49070
1x18W 70° 4000K
2051lm
175x175mm
45VT125L49012
1x25W 12° 4000K
2790lm
175x175mm
45VT125L49020
1x25W 20° 4000K
2790lm
175x175mm
45VT125L49040
1x25W 40° 4000K
2790lm
175x175mm
45VT125L49070
1x25W 70° 4000K
2790lm
175x175mm
45VT134L49012
1x34W 12° 4000K
4213lm
175x175mm
45VT134L49020
1x34W 20° 4000K
4213lm
175x175mm
45VT134L49040
1x34W 40° 4000K
4213lm
175x175mm
45VT134L49070
1x34W 70° 4000K
4213lm
175x175mm
45VT138L49012
1x38W 12° 4000K
4250lm
175x175mm
45VT138L49020
1x38W 20° 4000K
4250lm
175x175mm
45VT138L49040
1x38W 40° 4000K
4250lm
175x175mm
45VT138L49070
1x38W 70° 4000K
4250lm
175x175mm
code

flux
size
wiring
datasheet
voce di capitolato
45VT118L39012
1x18W 12° 3000K
1985lm
175x175mm
45VT118L39020
1x18W 20° 3000K
1985lm
175x175mm
45VT118L39040
1x18W 40° 3000K
1985lm
175x175mm
45VT118L39070
1x18W 70° 3000K
1985lm
175x175mm
45VT125L39012
1x25W 12° 3000K
2701lm
175x175mm
45VT125L39020
1x25W 20° 3000K
2701lm
175x175mm
45VT125L39040
1x25W 40° 3000K
2701lm
175x175mm
45VT125L39070
1x25W 70° 3000K
2701lm
175x175mm
45VT134L39012
1x34W 12° 3000K
4077lm
175x175mm
45VT134L39020
1x34W 20° 3000K
4077lm
175x175mm
45VT134L39040
1x34W 40° 3000K
4077lm
175x175mm
45VT134L39070
1x34W 70° 3000K
4077lm
175x175mm
45VT138L39012
1x38W 12° 3000K
4134lm
175x175mm
45VT138L39020
1x38W 20° 3000K
4134lm
175x175mm
45VT138L39040
1x38W 40° 3000K
4134lm
175x175mm
45VT138L39070
1x38W 70° 3000K
4134lm
175x175mm