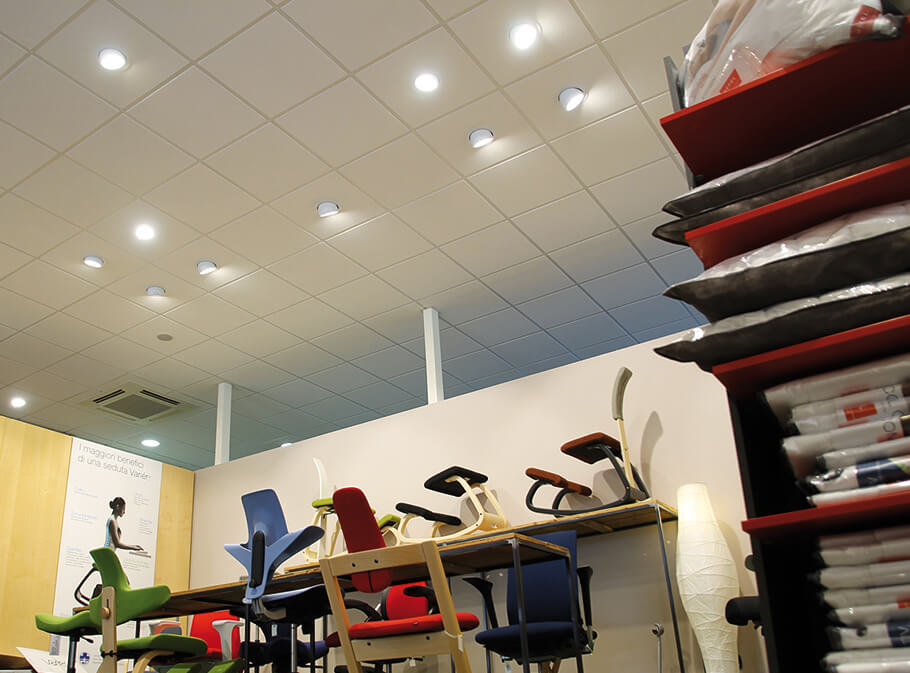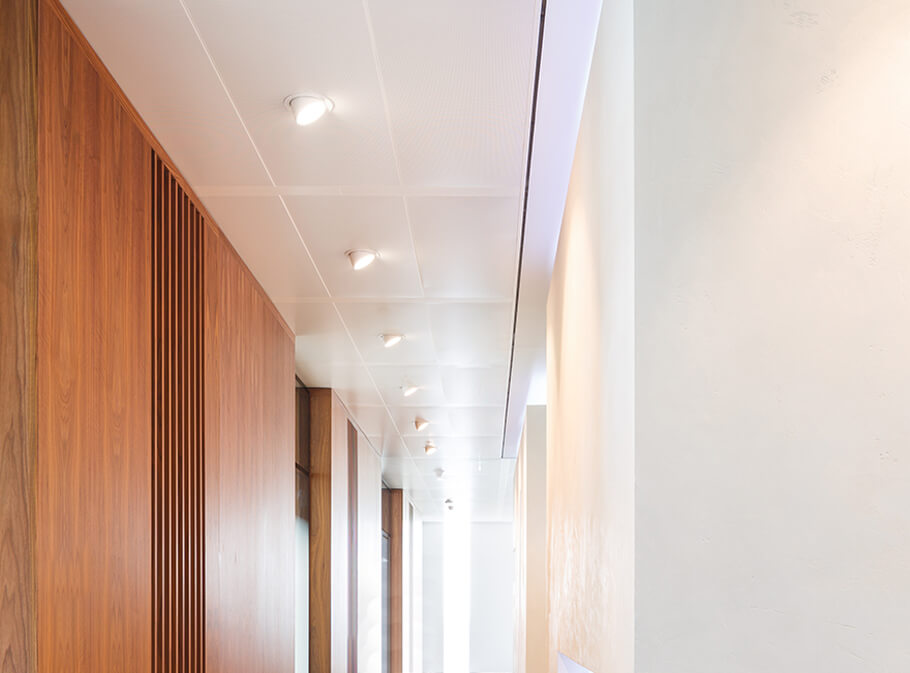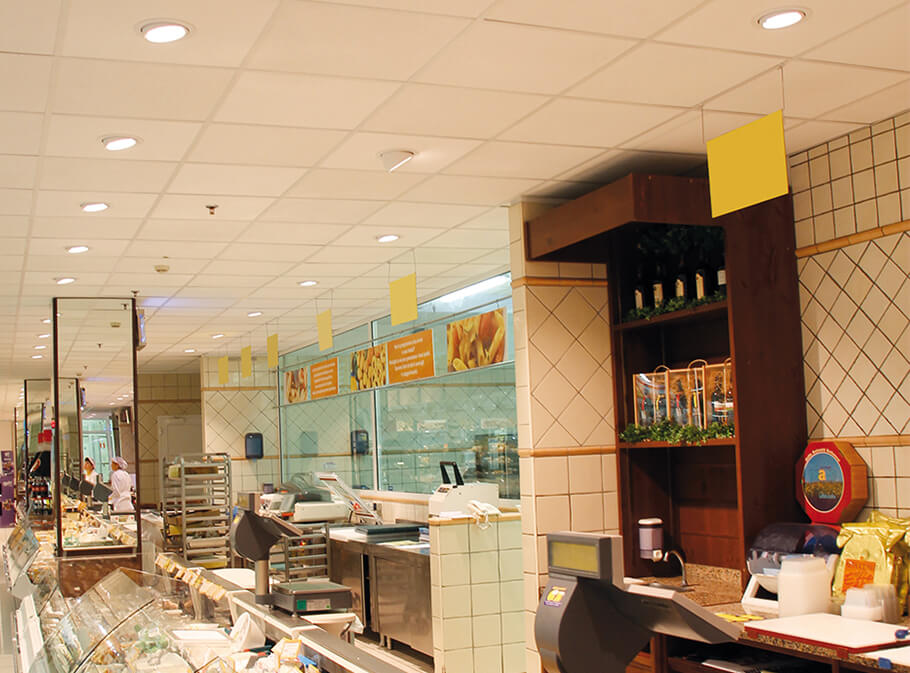 back to advanced search
HALL LED PROFLEX
HALL LED PROFLEX, available in two diameters, is an adjustable asymmetric version of the HALL LED fixture, for specifiers who not only need to light large spaces, but need to highlight specific areas, objects or architectural elements. The innovative ROTOFRICTION mechanism offers guaranteed security, precision and simplicity of aim. HALL LED PROFLEX has a tilt range of 60° (-15° + 45°) and a rotation of 355°. HALL LED PROFLEX is also available in PREMIUM, FASHION and FOOD versions.
Specifications
LED CoB technology
Colour temperature: 3000K/4000K
CRI>90
Mac Adams 3
Life Time: L80/B10 >50.000h
5 years complete warranty
Eye safety: RG0/RG1 in accordance with EN62471:2009
Optics
Internal aluminum reflectors from 10° – 20° – 40° – 70° beam angles.
Body
Manufactured from pressure die-cast aluminum with epoxy powder coating.
Legal references
In compliance with the safety standards EN 60 598-1 and UNI EN 12464-1 (lighting for working places).
On request
Wiring DALI dimmable – Code: RDD (verify the version available)
Wiring with emergency kit – Code: EM for 1 hour / EM3H for 3 hours
(verify the version available)
Driver Bluetooth – Code: BT
Show all ACHIEVEMENTS
HALL LED PROFLEX
versions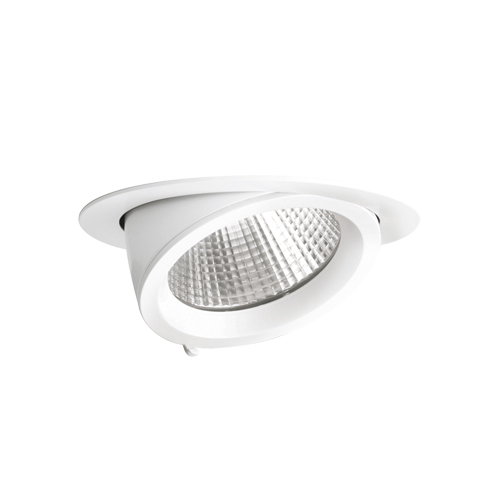 code

flux
size
wiring
datasheet
voce di capitolato
38AS13L49010S
13W 10° 4000K
1451lm
138mm
38AS13L49020S
13W 20° 4000K
1451lm
138mm
38AS13L49040S
13W 40° 4000K
1451lm
138mm
38AS13L49070S
13W 70° 4000K
1451lm
138mm
38AS18L49010S
18W 10° 4000K
2009lm
138mm
38AS18L49020S
18W 20° 4000K
2009lm
138mm
38AS18L49040S
18W 40° 4000K
2009lm
138mm
38AS18L49070S
18W 70° 4000K
2009lm
138mm
code

flux
size
wiring
datasheet
voce di capitolato
38AS13L39010S
13W 10° 3000K
1305lm
138mm
38AS13L39020S
13W 20° 3000K
1305lm
138mm
38AS13L39040S
13W 40° 3000K
1305lm
138mm
38AS13L39070S
13W 70° 3000K
1305lm
138mm
38AS18L39010S
18W 10° 3000K
1808lm
138mm
38AS18L39020S
18W 20° 3000K
1808lm
138mm
38AS18L39040S
18W 40° 3000K
1808lm
138mm
38AS18L39070S
18W 70° 3000K
1808lm
138mm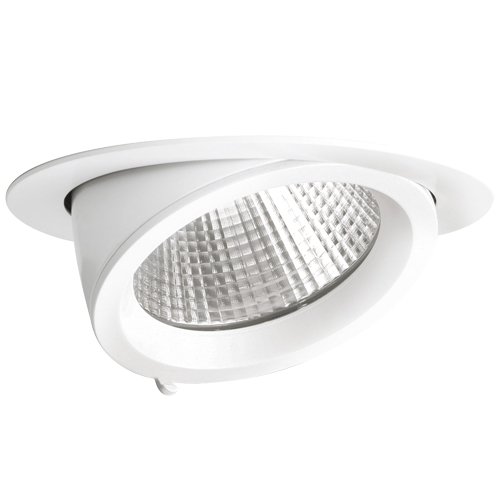 code

flux
size
wiring
datasheet
voce di capitolato
938AS25L49010
25W 10° 700mA 4000K
2660lm
188mm
38AS25L49020
25W 20° 700mA 4000K
2660lm
188mm
38AS25L49040
25W 40° 700mA 4000K
2660lm
188mm
38AS25L49070
25W 70° 700mA 4000K
2660lm
188mm
38AS35L49010
35W 10° 900mA 4000K
3595lm
188mm
38AS35L49020
35W 20° 900mA 4000K
3595lm
188mm
38AS35L49040
35W 40° 900mA 4000K
3595lm
188mm
38AS35L49070
35W 70° 900mA 4000K
3595lm
188mm
38AS38L49010
38W 10° 1050mA 4000K
4030lm
188mm
38AS38L49020
38W 20° 1050mA 4000K
4030lm
188mm
38AS38L49040
38W 40° 1050mA 4000K
4030lm
188mm
38AS38L49070
38W 70° 1050mA 4000K
4030lm
188mm
38AS54L49010
54W 10° 4000K
5023lm
188mm
38AS54L49020
54W 20° 4000K
5023lm
188mm
38AS54L49040
54W 40° 4000K
5023lm
188mm
38AS54L49070
54W 70° 4000K
5023lm
188mm
code

flux
size
wiring
datasheet
voce di capitolato
38AS25L39010
25W 10° 700mA 3000K
2394lm
188mm
38AS25L39020
25W 20° 700mA 3000K
2394lm
188mm
38AS25L39040
25W 40° 700mA 3000K
2394lm
188mm
38AS25L39070
25W 70° 700mA 3000K
2394lm
188mm
38AS35L39010
35W 10° 900mA 3000K
3236lm
188mm
38AS35L39020
35W 20° 900mA 3000K
3236lm
188mm
38AS35L39040
35W 40° 900mA 3000K
3236lm
188mm
38AS35L39070
35W 70° 900mA 3000K
3236lm
188mm